Spotify punya fitur baru untuk pengguna yang aktif di Facebook Stories. Kini pengguna Facebook dapat membagikan musik favorit ke Facebook Stories dan otomatis termasuk potongan 15 detik lagu dari musik tersebut.Dari catatan Spotify, fitur ini dibuat untuk membantu para musisi mempromosikan musiknya pada para penggemar.
Taking advantage of our sharing features helps to get your tunes to more people's ears. It will also encourage your fans to interact with you and your music and help spread the love through their own Facebook Stories.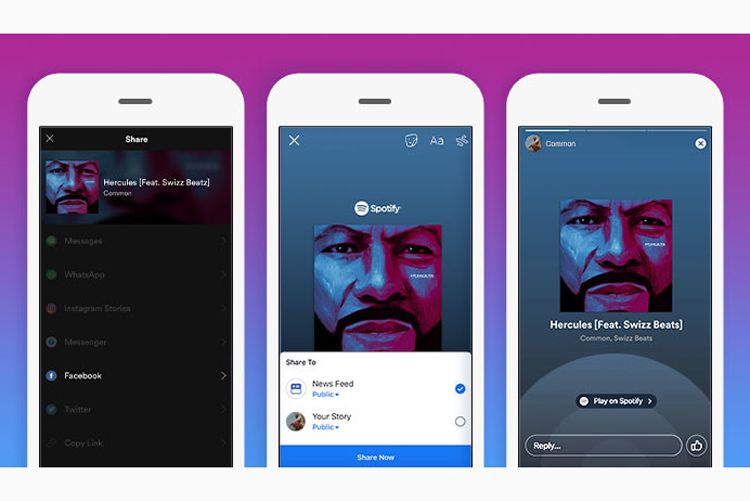 Selain mode potongan musik selama 15 detik, ada juga tombol akses cepat ke Spotify untuk mendengarkan lagu tersebut secara lengkap.
Cara menggunakan fitur ini sangat mudah. Pengguna hanya perlu memutar musik di Spotify lalu akses bagian Share Extension. Cari Facebook dalam list tersebut lalu pilih bagina ke Stories.
Sebagai catatan, fitur berbagi musik Spotify ke Facebook Stories bersama potongan lagunya baru mendukung single track.
Sedangkan untuk konten dalam bentuk Album, Playlist atau Profile pengguna, hanya akan menampilkan tombol akses cepat ke Spotify
Sumber: Make Mac